I almost can't believe it, but in one week, I'll be holding Superman: Red and Blue #4 in my hands, and see my name in print on a Superman book. A Superman book! Back when I started writing comics, with dreams of tackling pretty much every superhero I could think of, even then it seemed like Superman was a bit out of reach. But here we are.




In a lot of ways, it feels like the culmination of a decade of work... writing stories, promoting them, sending emails and pushing and pushing and pushing - all of that condensed and focused on well, 8 pages. But what a bunch of pages.

I wrote my heart out on this one, I'm not ashamed to say. It might be the last time I ever get to write Superman. Hell, it might be the last time I get to write ANY hero at DC, or Marvel for that matter. And that was a fact I was keenly aware of while working on it. So I promised myself not to leave anything on the table.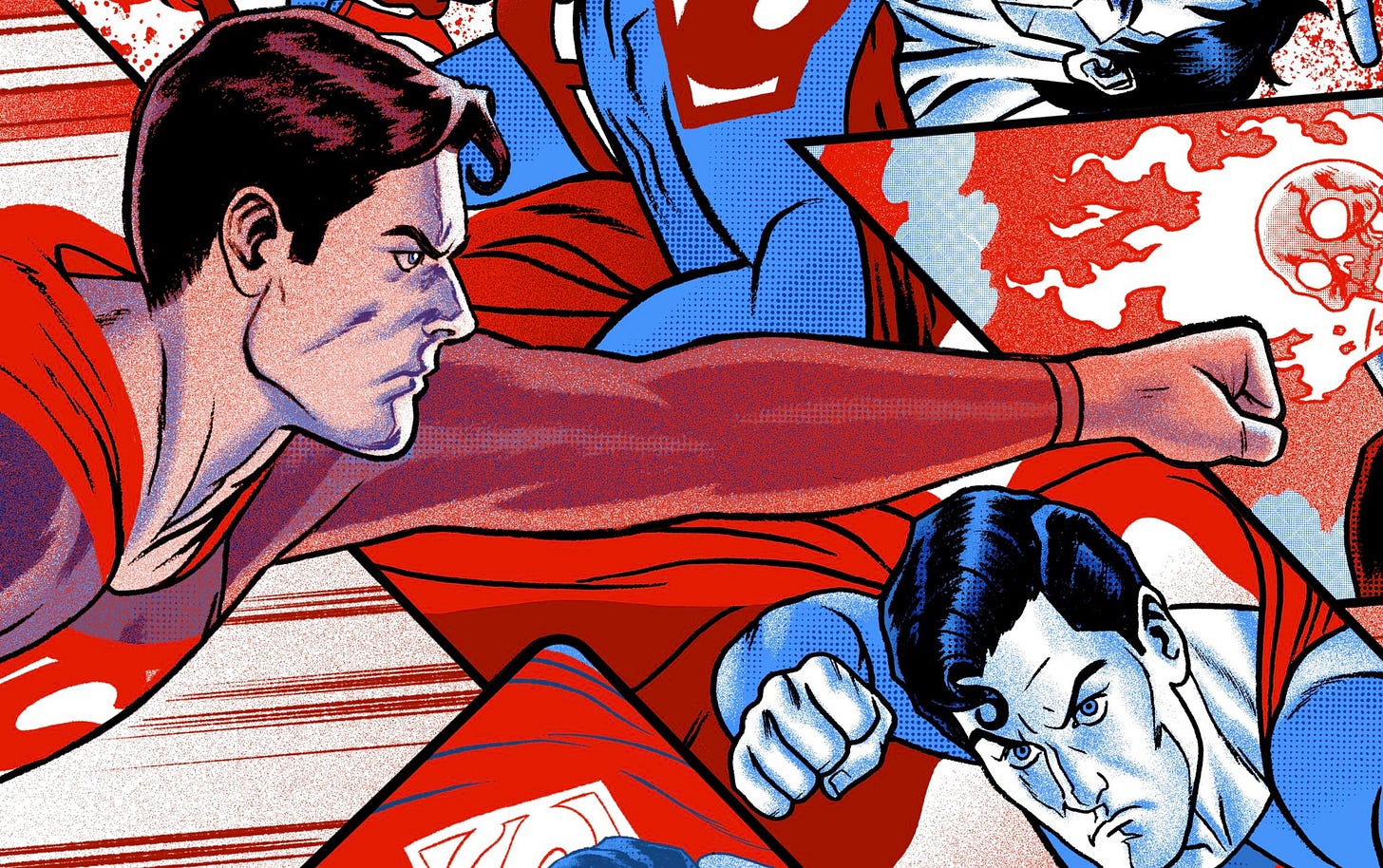 There's a LOT going on in these 8 pages, and bless him, Joe Quinones did an amazing job rendering it, and Dave Sharpe's letters are perfection.

So what's this story about, anyway? Without spoiling it too much, to me, it's about just how far Superman will go to save and help those who need it - even when it makes his life harder to do so. It's about how for me, the core of Superman's identity is that he does not let anyone down - even when it's arguable that he should.




It's got fights, quiet moments, and dare I say a good bit of heart. It's my way of showing everything I love about Superman, everything I love about superheroes, really, to you. And like I said, while I hope it's the first of many times I get to write him, I have no idea what the future holds - so this might be it. And I think, honestly, if this one story is all I have to show for Superman work at the end of the day, I'd still be damn proud of it.

Anyway, it's out next Tuesday, on 6/15, at comic shops everywhere, and on Comixology. I hope you pick it up!

In other news, I've been going over the proofs of the SEA OF SORROWS collection that will be out in September, and working on the outlines for 2 new creator-owned miniseries that will be out down the road.

On top of that, I'm reuiniting with my WAILING BLADE collaborator, Joe Mulvey, for HAPPY HILL - a new horror series that we can best describe as WIlly Wonka meets the Shining. More on that in a couple of weeks, but for now I'll leave you with a sneak peek at Joe's cover for Issue 1 -




Buckle up, it's gonna be a trip.

Thanks as always for reading this, and for your support... until next time!

- Rich