Welcome to HAPPY HILL!
Joe Mulvey and I launched a kickstarter campaign for our new horror comedy book, and we've reached over 200% of our goal!




Happy Hill is a project that Joe has been wanting to do for years - he'd been showing me sketches, pages and pages of artwork, and talking about all the cool ideas he had for the book. When we first started talking, he'd be asking my opinion on ideas, bouncing them back and forth, and over time, that relationship evolved to the point where he asked me to come on board and co-write it with him, which I was more than happy to do.




So, what's it about? Imagine the most luxurious resort you can think of, nestled in the forests of the Catskill mountains - it's beyond the pale, with attractions and amusements to rival Charlie and the Chocolate Factory... but something sinister is going on. There's a local legend, a figure called the Wudsman, who's said to be responsible for a raft of disappearances in and around the resort going back decades.


Enter Wyatt Willows - a crackpot investigative journalist convinced that the Wudsman is not only real, but connected to a mass disappearance at an orphanage, where he was one of two survivors. He's roped the other one, FBI agent Thea Rippley, into going undercover at the resort, where the recent disappearance of a 6-year old girl has sparked a police manhunt. What's the truth behind the Wudsman? What's his connection to the resort? All will be revealed in the pages of HAPPY HILL!




The Kickstarter will be running for the rest of the week, so if you'd like to pledge, check it out at happyhill.comixtribe.com!

If Kickstarter's not your thing, then keep an eye out, because we'll be coming to comic shops later this year!

PROJECTS
What else have I been working on? Some exciting things! Unfortunately due to the nature of the business, I can't talk about any of them explicitly, but here's a quick rundown. I even gave them some fun codenames!

Project Oil
This will be my next series, after Happy Hill. It's a horror book with a new publisher that I just turned in the first script for. Really excited to work with these folks, and it's been a spectacular experience so far!

Project Doors
You guys like it when Alex Cormack and I get together to do horror books, right? Well, stay tuned, we'll have some news coming on that hopefully soon.

Project Shade
This is another new book that's been accepted by a publisher I'm really excited to work with. Announcements, and publication, is a long way off still, due to their publishing schedule, but I'm working hard on outlining the series and getting it ready to go.

Project Eclipse
This is a BIG one. The editor stressed over and over again this was top secret, so no hints other than to say it's a dream project that is going to kick ass.

WHAT I'M READING
There's so many great books out there now, this newsletter would be insanely long if I listed them all. But here's a few that have jumped out at me recently.






KARMEN
I found this new Image series by Guillem March
to be a delightful surprise. Beautiful art and a poignant
story about life and death, regret, and karma.
Couldn't recommend it more.







THAT TEXAS BLOOD
After a brief hiatus, TTB is back with a vengeance!
I loved the first volume, and the second one is off
to a great start. Chris Condon and Jacob Phillips' work
reminds me of the Coen Brothers in all the best ways.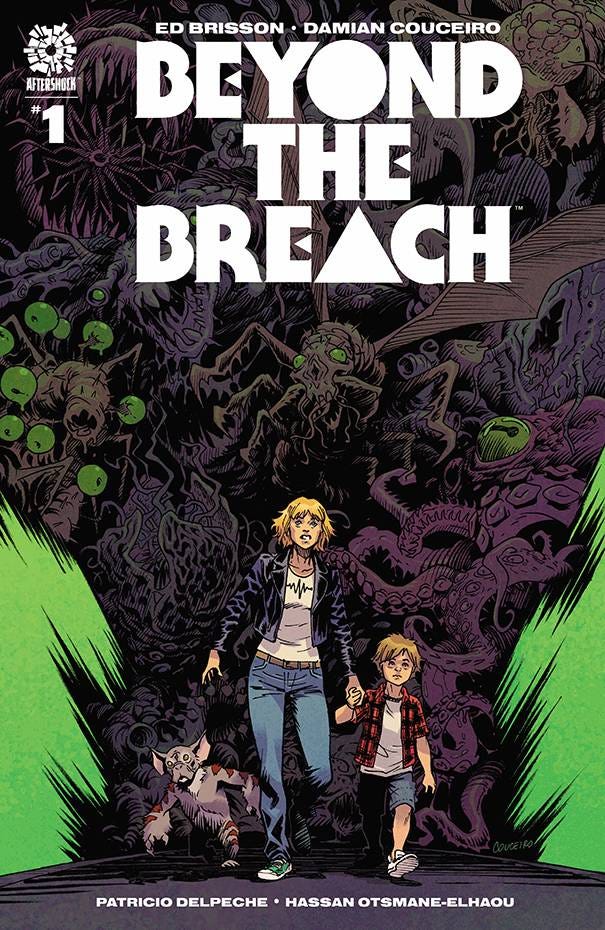 BEYOND THE BREACH
I love Ed Brisson's work, and when he's paired
up with Damian Couciero, magic happens. A wild story
about a road trip gone very wrong. Like interdimensional
creatures invading kinda wrong. Good stuff.







EVERFROST
If you read Wailing Blade, you know I have a deep love
for dark futures where big swords and barely-understood
technologies reign across the scarred ruins of Earth.
Ryan K Lindsay and Sami Kivela bring all that and more to
this book, which is super hot (despite the frosty name).





That's all for this week... see you next time for more comics news, and thank you, as always, for your continuous support!

- Rich